180 min
A portrait tells the story of someone's essence – that person's being. It often represents their character, likes and dislikes, feelings, mood, and more. It takes great skill and technique to capture an accurate portrayal of a person. There are also many elements to consider when shooting a portrait for it to be a success and this workshop will dive into all of the things you will need to start creating captivating portraits.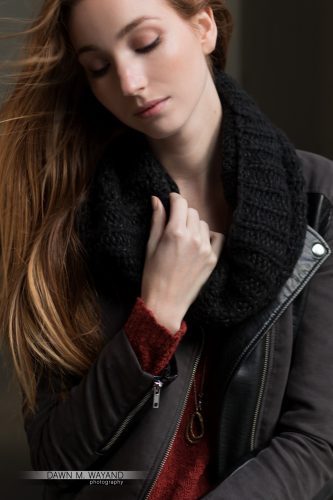 Here are just a few of the topics we will cover in this workshop:
Composition

Depth of field

Choice of background

Gear for portraiture

Various lighting options including what studio lights can be used for

Studio lighting techniques for portraiture

Relaxing your subject

Posing for portraiture

And more!
You will leave this workshop with an arsenal of tools, techniques, and knowledge to create more striking portraits.
Requirements: You must know the manual settings of your camera.
Optional: Feel free to bring your camera, however, if you do, you will also need to bring your camera's USB cord for tethering to Lightroom. Any photographs you take during the workshop, whether using the classroom Nikon D750 or your own, will be sent to you after class by Dropbox.
SPECIAL NOTE: Any student photos taken of the model belong to the photographers, however, photographers agree copies of the photos shall be released to the model to use for her portfolio only as a special thanks for her time. Photographers agree to sign a class model release prior to shooting providing such use by the model and prohibiting photographer from commercial use (selling the photos) without written consent from the model.
For more info or to schedule a workshop, please contact Dawn at [email protected].