150 Minutes
A portrait is a record or keepsake to last a lifetime. As a studio photographer, much goes into creating that momento. From coordination of wardrobe, hair and makeup to setting up sets and lights and then directing, posing, and shooting your client to reviewing select images with your client – these are just a few tasks involved with the actual shoot. However, as a new studio photographer, you will need to grasp all of the basics of being in a studio: the equipment available to you and how to use it – learning to crawl before you walk, and to walk before you run!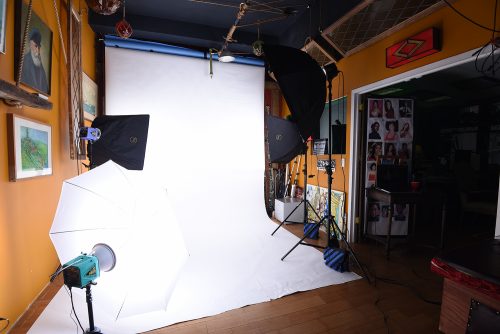 In this workshop, we will start by briefly going over many of the tasks involved in a portrait shoot as a primer before diving into a discussion and demonstrations on the following topics:
Shooting space

Tripods

Background options & support systems

How to properly use light stands and sandbags

Odds and ends such as gaffer tape, spring clamps, and more

Different uses for strobes

How to use a light meter

Tethering: why tether, what's needed for tethering, and how to tether

And more…
We will ALSO cover the following modifiers, their various characteristics, and effects through hands-on use on a working model:
Collapsible reflectors: different shapes, sizes, colors

Metal reflectors

Umbrellas: different sizes and colors

Softboxes: different shapes

Barndoors

Beauty dishes: different colors

Grids

Snoots

Gels: different colors
You will walk away from this workshop with a better comfort level of being in a photography studio, using a light meter, setting up light stands and a tripod, the functions of the class strobes, how to tether using Adobe Lightroom, and when to use what modifier to achieve a particular effect when shooting in the studio.
Requirements: You must know the manual settings of your camera.
Optional: Toward the end of the workshop, you will be able to practice shooting tethered with different modifiers in the studio. This workshop is mainly to get you acquainted with the studio equipment before other workshops where we will actually learn about lighting your subject and other studio techniques. Feel free to bring your camera, however, if you do, you will also need to bring your camera's USB cord for tethering to Lightroom. Any photographs you take during the workshop, whether using the classroom Nikon D750 or your own, will be sent to you after class by Dropbox.
SPECIAL NOTE: Any student photos taken of the model belong to the photographers, however, photographers agree copies of the photos shall be released to the model to use for her portfolio only as a special thanks for her time. Photographers agree to sign a class model release prior to shooting providing such use by the model and prohibiting photographer from commercial use (selling the photos) without written consent from the model.
For more info or to schedule a workshop, please contact Dawn at [email protected].