What is the difference between a TFP photoshoot and a test shoot? Some would say they are one and the same, however, there is a difference between the two.
A TFP (or "Time For Prints") photoshoot is a shoot where everyone involved in the photoshoot (photographer, assistants, hairstylist, makeup artist, and model) are all donating their time and effort in exchange for images. While no money is exchanged for this type of photoshoot, it is generally expected of all parties involved in this type of photoshoot to bring their A-Game to the photoshoot to produce usable images for the portfolios of all involved.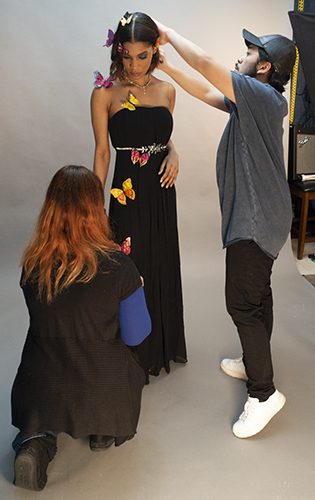 Photographer & Hair/Makeup Artist preparing model for the shoot.
Hair/Makeup Artist – Gil Aldrin; Model – Kristin Rutty
Behind the Scenes Image by Robert Olsen
A test shoot, on the other hand, may or may not be paid. This type of photoshoot is generally set up for one of a few reasons. Perhaps a photographer wants to test out a new piece of equipment or try out a few new lighting styles. A photographer may also be looking to test a new hairstylist or makeup artist. If all involved in this type of shoot perform well, good portfolio images may result and might be shared, but for a test shoot, it shouldn't be expected to receive images in exchange for time.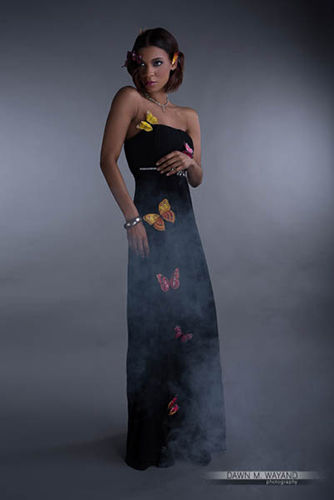 Resulting image.
Model: Kristin Rutty
Image by Dawn M. Wayand Photography
Sometimes, a modeling agency will send a model to a photographer for a test shoot to see if the model photographs well. The photographer may or may not be paid for such type of shoot, however, the agency does expect to receive usable images for the agency's portfolio for the model.
Regardless of whether a photoshoot is a TFP photoshoot or a test shoot, it's important to get model releases signed in order to protect all involved and to outline the rights of all parties as to the images that are produced during a photoshoot.