When I used to shoot model portfolio images starting in my home studio, what a model needed to bring to the shoot wasn't a very long list because I provided most of what they needed, such as wardrobe, shoes, accessories and jewelry, etc. Having these things on hand for me helped me to generate creative shoot ideas around the wardrobe.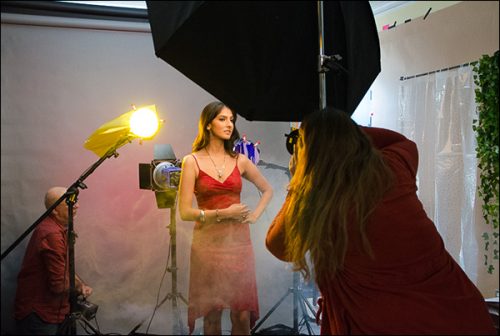 Behind the scenes image by Chelsea Jackson.
Now that I shoot in a studio in Midtown and do not have the space or luxury of storing those types of items, I've had to send a list of "must brings" to my models who come to me for portfolio shoots.
Below is a basic list of what a model should bring to any shoot, be it a portfolio shoot or an assignment.
Wardrobe. A variety in styles of wardrobe that fits properly (not too loose and not too tight). Solid colors work great, preferably earth tones. Try to stay away from patterns, horizontal stripes, polka dots and florals. Mix in a few textured items of clothing such as wool, fur, velvet or corduroy. It's also a good idea to include a small sewing kit in your bag just in case something rips or needs to be fixed during the shoot.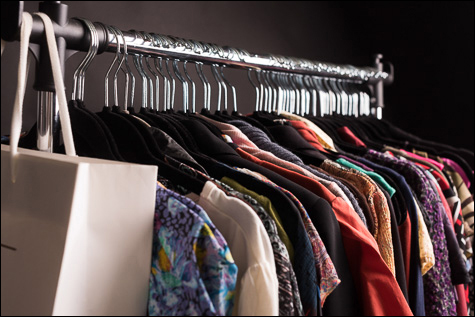 Behind the scenes image by Yann Bizeul.
Underthings. Black and nude are the preferred colors of bras and panties for ladies. They should bring a variety of regular, pushup and strapless bras, and seamless panties are preferred. Also include a thong just in case. Be sure to also pack nude and black stockings and socks. A bodysuit is also a good thing to have on hand. Gents should bring a variety of briefs, boxers and boxer briefs. They should also include both black and white tanks and t-shirts in their bag as well.
Shoes. Ladies should bring a variety of shoes, mainly heels of no less than two inches as heels flatter legs more than flats. Black and nude colored heels are typical basics. Gents should bring a few styles of shoes with at least one pair of dress shoes in black.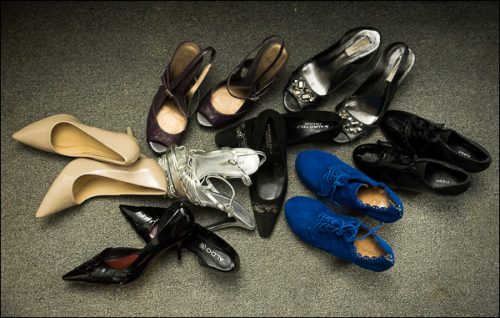 A variety of shoes for ladies.
A basic makeup kit.  Ladies should bring foundation, concealer, blush, bronzer, a variety of eyeshadow colors, eyeliners, lip liners, mascara and various lip colors. Gents should bring concealer, bronzer and blush.
Hair products. Both men and women should bring styling products and tools such as combs and brushes. Ladies should also bring a variety of hair ties, barretts, etc.
Skin and body care products. Moisturizer, makeup remover and clear deodorant are key things to have in your model bag. It's also a good idea to have a toothbrush and toothpaste on hand too.
Something to do between sets. I know when I shoot, we sometimes take a little longer than a change in hair and makeup to set up a new set. Models should bring their mobile phone, a book or some other thing to pass the time when they are not shooting.
Nourishment. Shooting a model portfolio can take anywhere from a couple of hours to a full day. It's important to bring basics like healthy snacks and bottled water to keep you energy level going otherwise any dips will show in your images and you will tire quicker.